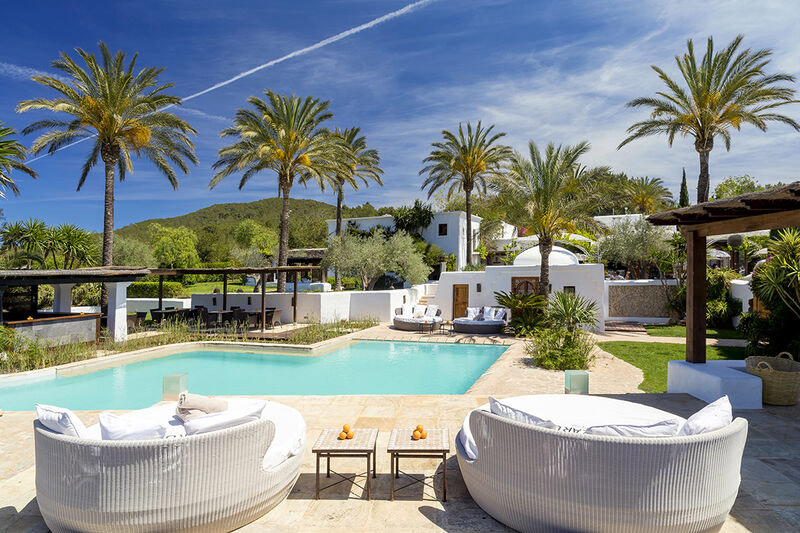 The Blueroom Project press department has informed the national media about the opening of new hotels in Santa Eulària des Riu and the reissue of the Charming Hotels Guide, which includes new establishments inspired by the traditional Ibizan architecture.
Nativo Ibiza Hotel is one of the new accommodations, located in the tourist area Siesta, right next to Aguas de Ibiza Lifestyle & Spa. The establishment takes advantage of the light and wide spaces and it is designed with natural materials such as wood. This hotels is a pioneer with Barefoot Luxury áreas (translated as  "Luxury of walking barefoot") in Ibiza inspired by the Japanese philosphy "wabi – sabi", a concept based on simplicity and harmony with the natural and organic. Its philosophy is inspired by sustainable and heatlhy stay, highlighting the Wild restaurant, with a healthy gastronomic proposal and the Wild Rooftop Bar with pool and gym.
On the other hand, Riomar Ibiza Hotel, a member of Marriott group, in its collection of independent hotels called Tribute Portfolio, has also opened its doors where the river and the Mediterranean sea meet.
Agrotourism, relaxation and wellness are the protagonists in the hotel proposal "Hoteles con Encanto", an offer that invites the traveler to connect with nature and enjoy the Ibizan tranquility from the luxury and quality par excellence that Agroturismo Atzaró represents, to the unique natural environment of the Agroturismo Can Arabí, and one of the establishments with the most history on the island, Buenavista Suites & Restaurant or the traditional Ibizan house on which the Agroturismo Can Cosmi Prats is located.