The Pura Vida Awards, conceived and promoted by The Blueroom Project with Muy Interesante (Zinet Media) as editorial partner, aim to encourage, promote, value and recognize the efforts of those who actively research and work in the conservation and protection of the environment, promote sustainable development and disseminate environmental values to preserve and leave a better world for future generations. The nomination criteria for candidates, finalists and award winners are based on professional careers and excellence in environmental defense, commitment, research and conservation, biodiversity and sustainability, as well as the dissemination of these values.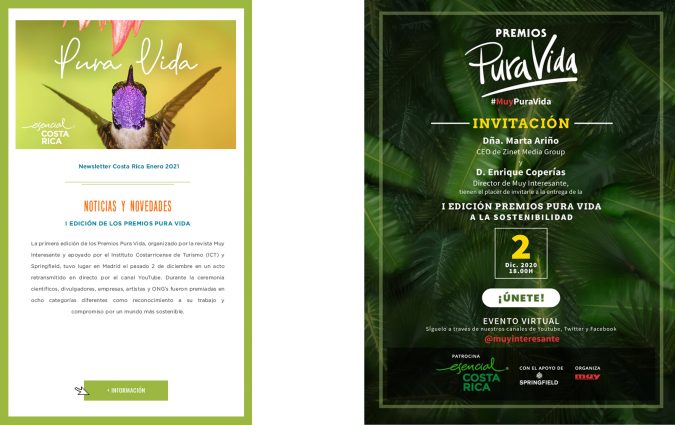 The Aragonese actor and communicator Luis Larrodera was in charge of presenting the event held in Madrid and broadcasted live on Youtube, with the participation of the Minister of Tourism of Costa Rica, Mr. Gustavo Segura, and Marta Ariño, CEO of Zinet Media, publisher of Muy Interesante, who organized the event with the support of the Costa Rican Tourism Institute (ICT) and Springfield. The jury of this first edition was composed by the senior editorial team of Muy Interesante, with its director, Enrique Coperías, and deputy director, Pablo Colado, acting as secretaries of the Selection Board.   
The broadcast had a live audience of more than 100,000 viewers on all social networks, to which must be added the subsequent on-demand views.  

The winners of this first edition were:   
Prize for ENVIRONMENTAL PROTECTION for the NGO Spanish Ornithological Society SEO

BirdLife

.  

 

 

Prize to the DIVULGATOR IN DEFENSE OF THE ENVIRONMENT for the presenter of the program "

Aquí

la Tierra", of TVE, Jacob Petrus and for the biologist

Jaume

 

Terradas

. 

 

 

Award for SUSTAINABLE BUSINESS MANAGEMENT to the Spanish company ACCIONA.

 

SCIENTIST + COMMITTED Award for Marta Estrada biologist who has led several oceanographic exploration projects in the Mediterranean and Antarctica.

 

INVENTIVE + ECOLOGICAL Award for the company Sea2see Eyewear, which has demonstrated that technology can become a great ally in environmental conservation.

 

ACT GREEN Award for the

Ecomar

Foundation, for its more than 20 years of dedication to education in the care of our seas and oceans, their flora and fauna.  

 

 

ENSEÑA VERDE Award for the CEA Network of the Community of Madrid.

 

PUBLIC CHARACTER award in defense of the environment for Daniel

Carbonell

de las Heras, MACACO. 

 
More information and video of the complete event at:  https://www.puravidauniversity.eu/blog/i-edicion-de-los-premios-pura-vida/