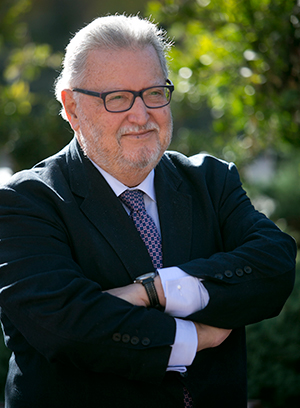 IN MEMORIAM: HE DIED ON DECEMBER 4, 2019 IN MADRID

BUT HIS BOOKS AND LEGACY CONTINUE TO INSPIRE OUR DAILY WORK
Considered the father of the "New Strategic Theory" (in Spanish NTE) and a reference author on the discipline of strategy and communications, Rafael Alberto Pérez (A Coruña, España, 1942) is recognised by many experts who have attended his seminars, read his books or simply have visited his blog, as the man who "has changed their way of understanding and developing strategies".
Committed to the complex thought which is present in his work, he reveals the present trend to confront theory and practice, which is leading to weakness in both of them.
PhD in Communications from the Complutense University of Madrid and Dr. ex-thesis in Law (University de Santiago de Compostela and Autónoma de Madrid). He studied Business Administration at Comillas Pontifical University (ICADE, Madrid) and graduated in the first promotion of Communications from the Official School of Advertising (Madrid).
Strategic Advisor over the last 40 years, he worked as a Professor for 42 years at the Complutense University of Madrid, where he is presently Professor Emeritus. Guest lecturer at more than 120 Universities from 18 countries and Honorary President of FISEC (Ibero-american Forum on Communications Strategies) and CINTE (Itinerant Chair on the New Strategic Theory). Currently, he is a member of 14 Scientific Councils in 6 different countries.