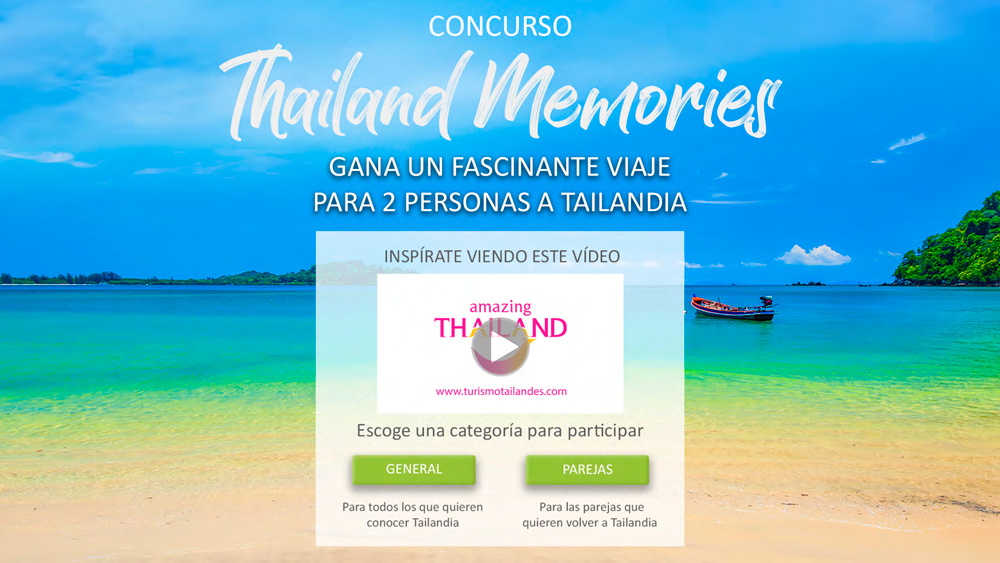 Con el concurso "Thailand Memories", The Blueroom Project, en su función de representantes oficiales de la Tourism Authority of Thailand / TAT en España ha desarrollado un proyecto estratégico y emocional para que los usuarios nos inspiraran por medio de su anhelo y nostalgia del destino Tailandia y su cultura durante el periodo de pandemia Covid_19 y confinamiento.
Se implementó, tanto, una actividad de consumidor a consumidor dirigida a parejas como una campaña mediante la creación de una landing page donde lanzar un concurso entre los viajeros españoles. Además de landing page y banners en los medios colaboradores relevantes del sector de lunas de miel y viajes, y publicaciones en las respectivas redes sociales, la noticia del concurso se ha publicado en la sección de noticias de la web oficial de www.turismotailandes.com, con una galería de los materiales enviados por los participantes, se realizaron newsletters específicas y se apoyó la activación a través de notas de prensa distribuidas entre los medios de comunicación.
En ambas categorías, el material compartido debía ser personal, original y estar relacionado con Tailandia, sus playas, cultura, costumbres, lugares, gente, etc. Las imágenes, los vídeos y los textos presentados fueron evaluados en función de criterios creativos, de calidad, originalidad y capacidad de respuesta al impacto rápido y general. Después de una selección de 10 finalistas por categoría, el jurado ha fallado los ganadores del concurso. Hay que destacar el alto nivel de participación, más de 1.500 trabajos presentados, así como la gran calidad del contenido presentado, desde la apertura del plazo de inscripción en el mes de mayo 2020.
Después de una dinámica campaña, los ganadores de esta primera edición disfrutarán de un viaje para dos personas al País de la Sonrisa con el acompañante elegido.