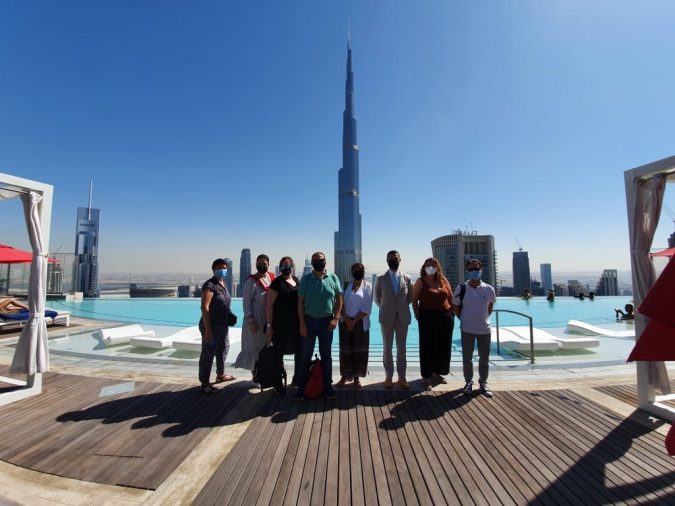 Dado que el destino está abierto para recibir turistas y adaptando el formato a las restricciones Covid19, desde The Blueroom Project ponemos en marcha un viaje de familiarización organizado por Departamento de Turismo, Comercio y Marketing de Dubái (DTCM) con la colaboración de su aerolínea de bandera Emirates.
Un total de seis profesionales del sector turístico participaron en él,con el objetivo de hacer que Dubai sea aún más conocido entre el trade turístico español. Durante todo el viaje, el grupo estuvo alojado en los hoteles Dukes The Palm y Al Seef Heritage Curio Collection by Hilton, y junto con las diferentes inspecciones hoteleras, pudieron disfrutar de los diversos atractivos del destino con la visita a edificaciones emblemáticas como The Top Burj Khalifa, The Address Sky View o el Dubai Frame; o al Museo Al Shindagha, Al Fahidi y Abra Ride en un "city tour" por el viejo Dubai. Además de recorrer otros puntos de interés como el Museo de la Daga o la Mezquita en el denominado Tour de Patrimonio, tuvieron la oportunidad de conocer el Centro de Entendimiento Cultural Sheikh Mohammed y vivir en primera persona el espectáculo en vivo "La Perle" o una experiencia en desierto. El grupo estuvo acompañado por "nuestro" Pablo Rodríguez, del equipo de The Blueroom Project, como responsable de representación para el sector turístico a nivel nacional.
Junto con el fam trip, y para mejor conocimiento del destino, The Blueroom Project también organiza durante el mes de diciembre varias comidas con representantes del sector con el fin de retomar el contacto con los profesionales del sector en una acción que no se había podido hacer desde la irrupción de la pandemia y poder compartir las novedades de Dubái a la vez que transmitir su normalidad, de una manera presencial y cercana.