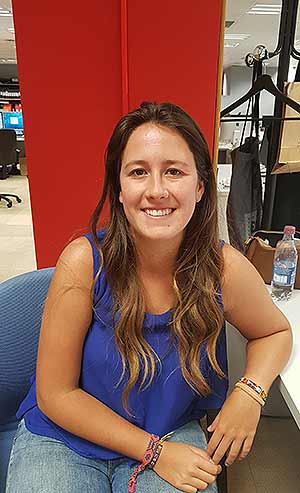 MARKETING COMMUNICATIONS EXECUTIVE
From Reunion Island to Paraguay, passing through Cyprus and Peru, Alicia has developed her professional career in different countries in the field of communication, awareness-raising and international cooperation. She studied journalism and law, and is a great defender of human rights, gender equality and sustainability.
She has worked in national and international public sector entities, such as the AECID (Spanish Agency for International Development Cooperation) and the Government Delegation against Gender Violence. She has carried out internships in the European Parliament Office in Cyprus, and she worked in the NGO Pukllasunchis Association in Peru, and she has carried out a gender consultancy in a project of Fútbol Más Foundation. She has also developed her career as an editor in private entities such as the digital magazine Business Insider and El Mundo newspaper, where she was an editor in the travel section.
She speaks three languages, she loves graphic design, photography, developing audiovisual materials for social networks, and give workshops and training to both professionals and adolescents to raise awareness and share knowledge in different fields. Her great passion is to travel, getting to know and learning from all the places and people with whom she works and shares new experiences.