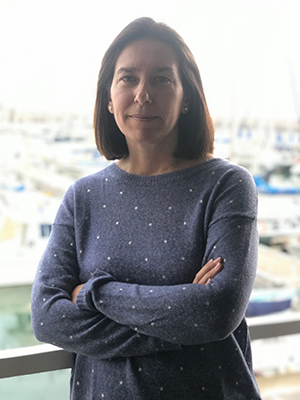 From mushers' races in the Pyrenees to luxury houses in California, going through culture, sport and aviation, she has been working over 20 years as an Advisor in Public Relations. She has lived in Barcelona, Geneva, Boston and San Francisco, where she worked in the company Pacific Union which belongs to the General Motors Group.
She has an entrepreneur spirit which led her to create the departments of Public Relations in the Culture Forum in Barcelona 2004 and in Vueling Airlines, where she stayed until she was hired by the Futbol Club Barcelona.
She got her Degree in Advertising and Public Relations from the Universitat Autònoma de Barcelona (UAB) and a Master in Integrated Marketing Communications from the Emerson College in Boston. Presently, she also works as an associate professor in Leadership Techniques and Negotiation at the Universitat Autònoma de Barcelona.
Her passions are called Léa and Alex, to whom she has transmitted her pleasure for travelling, since her favourite play is packing her luggage to go on holiday.